Competitions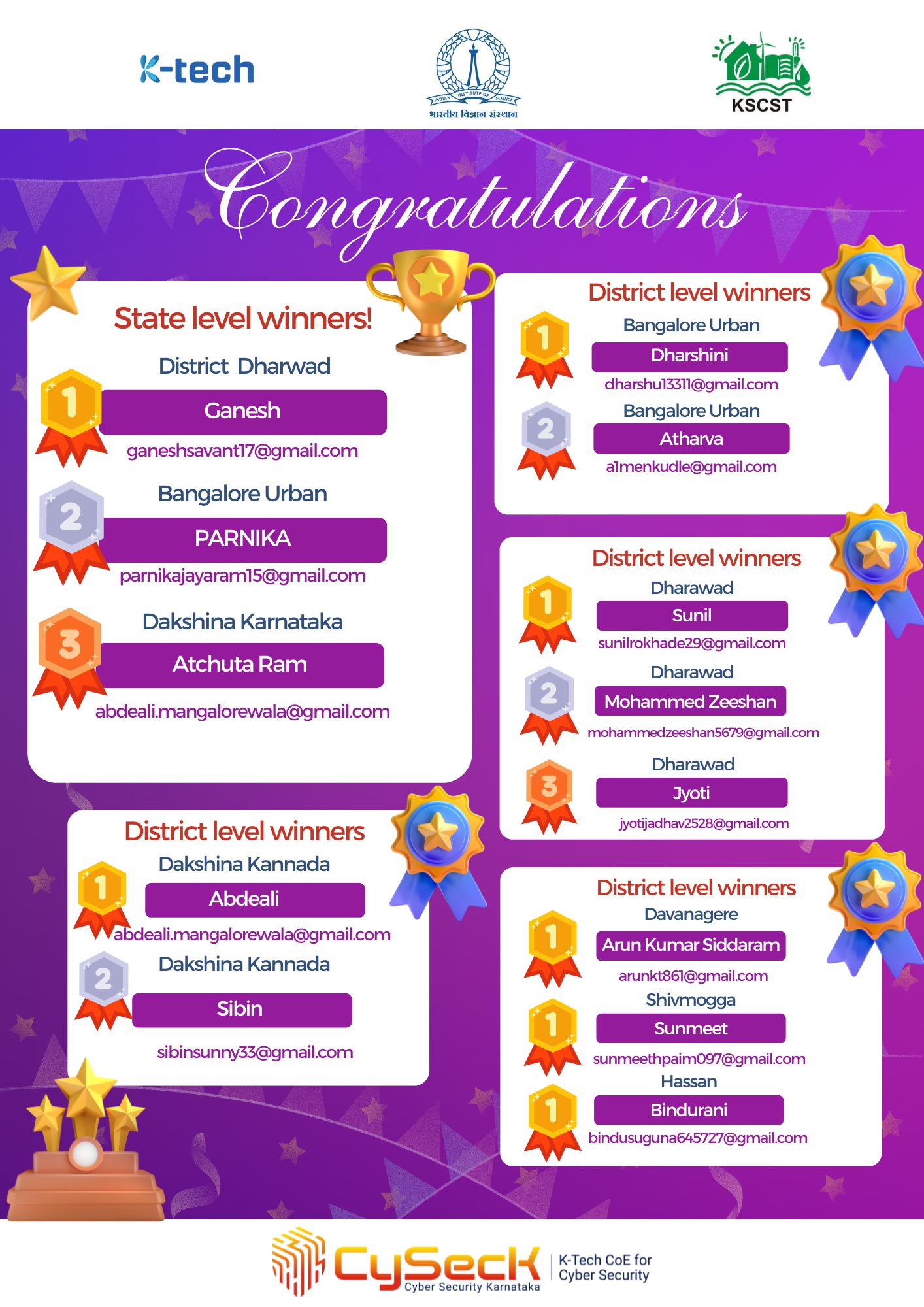 Dear all, thank you for registering your interest in the Course – "Introduction to Cybersecurity" The registration is closed. Now the Course has been started for Both First and Second Batch. The Course date extended till 31st of December 2022 All the Best hoping all of you clinch the price money.
Reward and Recognition
State level Winners first price Rs.10,000/-, Second Price Rs.7,000/- and Third price Rs.5,000/-
District Level Winners First Price Rs.4,000/-, Second Price Rs.3,000/-and Third Price Rs.2,000/-
Winners of the Contests
Click on images for enlarged versions.
Winners
Security is not limited to few experts. Be it application developers or infrastructure specialist, knowledge in the field of security and privacy will help them create acceptable applications. With the advent of mobile, there are over 2 million apps each on Android and iOS. But an interesting fact is 55% do not make it to the platform as they would have missed the security and privacy consideration while developing the application.
Web Applications are a growing focus point for cyber criminals.
(1) 2020 Verizon data breach report confirms 43% of data breaches are tied to web applications, which more than doubled year over year
(2) According to the IBM Security's Cost of data breach report 2020, 86% of data breaches are financially motivated. Average cost of data breach in India is $2M in 2020. Avg. cost for a compromised credential is $150*
(3) The risk to business is significant when an application vulnerability is exploited leading to outage, data breach or brand degradation
March For Secure Code is a month long programme on secure application coding and cybersecurity in partnership with NASSCOM, consisting of a course and a "Grand challenge" for college students.
The month-long course to be held in March-April 2021, comprises 51.5 hours of learning, 13.5 hours of theory and 38 hours of hands-on exercise. The course will be a prerequisite to the Grand Challenge. Colleges across Karnataka can register all students who are interested in coding, irrespective of their specialisation.
The month-long event will include:
Course on "Application Security – Vulnerability Assessment"- with self-paced classes and assessments which students can complete as per their convenience.
"Grand challenge" competition at the end of the month.
Exciting prizes await the winners –
Cash prizes of Rs. 25,000, Rs. 15,000, Rs. 10,000 will be awarded to the first three winners of the Grand Challenge, along with trophies.
Cash prizes will be awarded to three students from each district who complete the course the earliest – Prizes of Rs. 10000, Rs. 5000, Rs. 2500.
Trophies to top three colleges with maximum participation
All the learners who have successfully completed the course will receive a course completion certificate from NASSCOM and CySecK and a LinkedIn Badge!
Here's how you can participate
Colleges can register their interested students by filling out the details
Last date of registration: 15-Feb-2021
All colleges are requested to appoint a single point of contact, (SPOC). CySecK will be in constant touch with the college SPOCs for the duration of the event via email and WhatsApp groups.
Responsibilities of college SPOCs-
The SPOC is required to
Provide his/her contact details on the excel sheet.
Ensure that details captured in the excel sheet for student registration are correct.
Share the PDF version of the excel on the college letterhead.
Mail the excel file and the same content on institute's letterhead as a PDF to us at – ops.cyseck@karnataka.gov.in
In case of any queries, reach out to us at mgrasb.cyseck@karnataka.gov.in
So, are you ready to "March for Secure Code?"
FREQUENTLY ASKED QUESTIONS
Registration
1. Can individuals register for the course? No, CySecK will not accept individual registrations. Students who are willing to participate need to request their college SPOCs and Student project coordinators to register students from your institution.
2. Eligibility criteria for students to participate ? Undergraduate and Post Graduate students who are interested in coding, irrespective of their specialisation can apply. Participation need not be limited to those who are specialising in cybersecurity. Students from colleges across Karnataka can apply via their college SPOCs and Student Project Coordinators.
3. Is there a limit on number of students an institution can register? No, there is no limit on the number.
4. Is there any registration fee? No, this programme is absolutely FREE.
5. How can college SPOCs and Project Coordinators register? Colleges can register their interested students by filling out the details in the given excel sheet. SPOCs and PCs can then share the PDF version of the excel on the college letterhead by mailing the same to ops.cyseck@karnataka.gov.in.
6. What if student already has a Future Skills account? Only students who apply via the CySecK registration link will be eligible as a part of the course. Post registration, students will be onboarded via a separate account, even if they have a pre-existing FutureSkills account.
7. What is the last date to register? 15th February, 2021
Course
1. It is a month long course, will it not conflict with students academic schedules? The course is self paced and hence, flexible. Only the weekly expert sessions are live, however these are optional. The Grand Challenge, which will be held at the end of the course, will be scheduled on a weekend.
2. When does the course start and end? The course starts on 1st March and end on 15th April 2021. We will be sharing detailed brochure of course schedule, expert sessions and Grand Challenge with the registered participants soon.
3. What will students receive after completion of the course? Course completion certificates and LinkedIn badges will be provided to those who complete the course. There are also cash prizes for three students from each district who complete the course earliest.
4. What configuration is required in the laptop/desktop for the course?
Apart from good internet connectivity, any laptop or smart phone is good enough to complete the course.
5. Is the course trainer led?
The course is mixed -instructional and self paced, with multiple videos, diagrams and infographics for each topic. There will be a narrator for some parts of the course. There will be four expert sessions held live weekly.
6. Do students need to apply separately for the Grand Challenge?
No, all students who successfully complete the course, will be sent a link by SkillsDa for the challenge.
7. How long is duration of the course?
The course and the Grand Challenge is month long, scheduled for March. The course contents will be available for students on the Prime platform for 6 months.
8. When can the students enroll for the course on FutureSkills Prime?
Once the college SPOCs register their students via the excel sheet provided on CySecK's website, our team will get in touch with the students via email and notify them. They will be guided regarding the activation of their FutureSkills account.
Internships
1. Will the selected students have to travel for the internships?
No, both internships being offered by SkillsDa and NCIIPC are virtual internships, they will be held online.
Awards
1. How does CySecK consider the students' district while declaring results?
The district of the student is same as the district in which his/her educational institution is located. These details are provided by the institute's SPOC at time of students registration.
2. Will the SPOCs also be provided with any recognition certificates ?
The SPOCs will not be issued any certificates by CySecK.
Queries
For more queries, mail us at mgrasb.cyseck@karnataka.gov.in
College SPOCs and PCs can also join our Whatsapp group http://bit.ly/marchcode